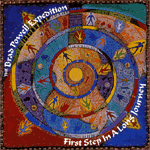 In the early 1980s, Brad Powell was teaching guitar, performing gigs, and doing occasional session work. Meanwhile, he was studying composition, formally from Dr. Phillip Weston, and later informally under David Rose (composer of Little House On The Prairie). In 1981, Brad composed Passalaqua as a tribute to his mentor, Joe Pass. He soon expanded the piece into a suite, entitled Passalaqua Suite. Meanwhile, Brad began writing underscore cues for television.

In 1989, inspired by a rafting trip through the Grand Canyon, Brad envisioned an album that would explore different genres and bring together some of his favorite musicians and singers. He began the 7 year-long journey of recording this "labor of love" album project. Joe Pass agreed to perform on Passalaqua Suite as a featured guest, and a session was planned for July 1994, when Joe was scheduled to be in town for a Hollywood Bowl concert. But it was not to be…Joe died of cancer on May 23, 1994. Brad decided to perform the guitar part, in memory of Joe, and added "Lessons With Joe"-recorded bits of old lessons-as a prelude. The recording sessions were completed in late 1997. Around this time, Brad discovered the contemporary folk art of Joel Nakamura, and asked Joel if he would create a cover for the "Expedition" CD. Communication Arts magazine selected Joel's cover artwork for First Step In A Long Journey for their July 1998 Illustration Annual, as one of the best album covers of the year.

In 1998, Brad traveled across the US promoting First Step to radio. He continued to produce for Geofonica Records, and perform on guitar. The CD First Step In A Long Journey was truly that... a sort of chrysalis, or exploratory CD, which in 2001, led to the popular series of Candlelight Guitarist CDs.
R.S. Murthi, writing about First Step In A Long Journey in the NEW STRAITS TIMES...
"Brad Powell is a guitarist who studied under the late, great jazz master Joe Pass, whom he fittingly pays tribute to in a specially composed suite on this debut album.

"...he's a deft composer with a knack for intricate scoring as he demonstrates on such pieces as First Step In A Long Journey and Passalaqua Suite (the work dedicate to Pass).

"The horns are richly orchestral and the rhythms have a natural flow and swing, and Powell has assembled a team of top-notch players including drummer Chad Wackerman, alto saxophonist Brandon Fields, bassist Jim Hughart and pianist Mark Massey to realise his stylistically diverse conceptions."