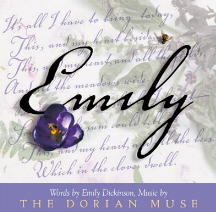 The Dorian Muse has created Emily ...a wonderfully sublime work, setting Emily Dickinson's words to music. If you appreciate the poetry of Emily Dickinson, we think you'll really enjoy this CD.

Emily is great for relaxing...enjoying with a glass of wine & cheese...music to ponder on, wander with, or even clean house to. Stargazing music. Mini-vacation music. Nice with a fireplace. A different kind of soul music, for a special place in your heart.

Dorothy Collins has a voice like organic honey you might find a mile off an interstate in New England, reflecting the influences of Joni Mitchell, Judy Collins, Carole King, and even Peggy Lee. Through Dorothy, you'll hear the voice of Emily close-up, portrayed with understatement and sensitivity.
Ian Ferrin is an accomplished keyboardist...his performance and arrangements aptly capture the essence of Emily Dickinson's thought-provoking words. Ian's compositions are in the lineage of Paul Simon and Cat Stevens, mixed with shades of Roy Harris. Dorothy's compositions, as well, are engaging portraits of Emily Dickinson's universe in microcosm.

Geofonica invites you to partake in a timeless CD you will enjoy again and again.